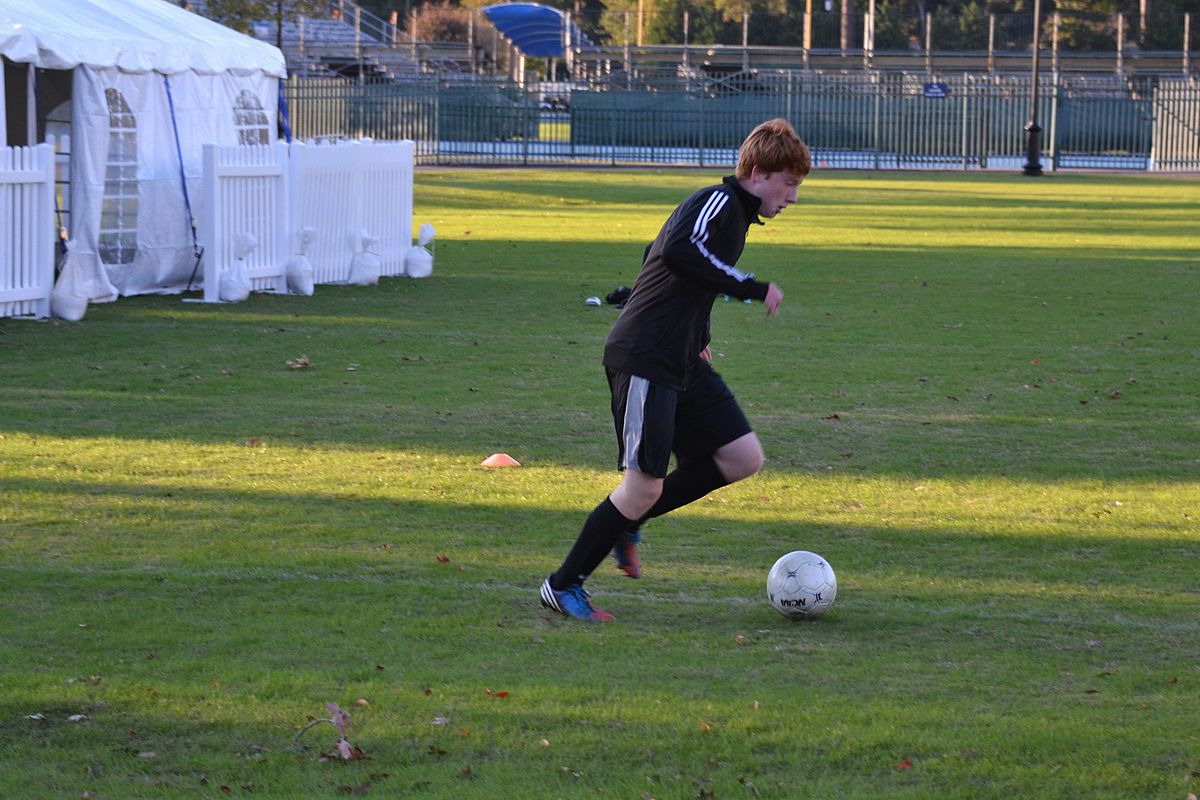 There are a variety of skills that everyone needs to master in order to be successful playing soccer. You likely have heard coaches or other people in the game calling these skills the "soccer fundamentals" which are particularly important.
Some of these skills are fairly obvious. For example, even if you're a beginner I'm sure you know the importance of knowing how to pass the ball.
But what exactly makes something a fundamental skill, and more importantly, what can you do as a player to learn these fundamentals most effectively?
For Beginners: What Are these Fundamentals Anyway?
There's no soccer coaching body that publishes an agreed-upon list of a set number of "fundamentals." If you search online or read a stack of soccer coaching books, you'll find a widely varying number of them, as well as some discrepancies as to what gets counted as a fundamental.
But there are commonalities that you'll see almost everywhere. These are the key skills that all players need to master no matter the level they are at or the positions which they are playing.
We briefly describe each soccer fundamental here, with some links into other articles that go into more detail on each skill. I will say that fundamentals are much different for goalkeepers; this article is talking about field players.
Fundamental #1: Passing
What's the quickest way to get the ball from Point A to Point B on the field? Some may think it's by dribbling, but passing the ball is the fastest and most efficient way to move it across the field.
This helps get more teammates involved at key positions on the field, break down the defense, and ultimately get the ball in dangerous attacking positions.
In other situations, passing can actually be more of a defensive move, allowing you to relieve pressure from the opponent and catch your breath while preparing to gear up for your next move up the field.
At a most basic level, any time your team is in possession of the ball and passing it around, the opposing team is chasing and getting tired, which gives you the advantage.
Any great team is able to pass the ball at a high level (even if they ultimately decide to favor other parts of the game in their tactics), and thus any great player needs to be proficient in passing.
This is why we consider passing among the most important of fundamental skills and something that every player, regardless of position, needs to spend a lot of time refining.
Fundamental #2: Receiving/First Touch
This is the other side of passing; the player who receives the pass. You may know this skill as "trapping" but that term has fallen out of favor because it signified stopping the ball dead. Receiving, on the other hand, is getting the ball under your control in a fluid motion so you can make your next move.
We've included first touch in here too which is a related but slightly different idea. Your first touch is not just when you receive a pass by a teammate, but any time you gain possession of the ball, be it from a crisp pass or a awkwardly bouncing ball.
Fundamental #3: Dribbling
Although passing is a more efficient team strategy for moving the ball, any good player also needs to be confident in their ability to dribble.
By dribbling you can take players on and get past them. You can dribble to create your own shot. You can even get yourself out of a dangerous situation or tight space by moving into a better position.
In short, it's about as fundamental a skill as you can get, and one that all players need to work on and master.
Fundamental #4: Shooting
Some may challenge the idea that shooting is something that all players need to learn how to do well, and thus question its fundamental status. After all, isn't it just forwards who need to know how to shoot?
This is incorrect.
Midfielders regularly get up into the attacking third and need to be ready to shoot when they have the space and opportunity. Most defenders will do the same on occasion, and will also likely find themselves in the opposing team's box on corners and other set pieces.
With this in mind, it's still very important that defenders and midfielders learn to shoot with proper form, because they may only get one chance to do it and need to be ready to take advantage.
Fundamental #5: Defending
Similar to shooting, defending is another fundamental skill that some mistakenly think is only for defenders.
But defending happens in all areas of the field and needs to be done by all players. A forward who loses the ball needs to apply the right pressure so the team can win it back. Every player needs to have the skills to put in a strong tackle when defending.
Fundamental #6: Heading
Heading is another key skill that is necessary for all players, no matter their position. It's a diverse skill: forwards head the ball for a shot on goal; midfielders jockey to win airballs in the center of the pitch; and defenders must head the ball out of their box and into safety.
In addition, learning proper heading form is extra important because repeated improper heading can increase the risk of concussions and even brain damage. As the safety of heading continues to be investigated, there may be changes to it, especially at the youth levels.
Drills for Learning Soccer Fundamentals
There are countless ways to improve these fundamentals. You naturally work on them in game situations, with the benefit that you will experience them in realistic situations and naturally connected to each other.
But games and scrimmages aren't enough for working on your fundamentals. A full sided game won't give you enough touches and repetition of any skill to make a major difference all by itself.
Instead, you need to work on these skills in isolation. If you're on a team with a good coach, he or she should already be designing drills that work on these skills. These might include give and gos with a partner; dribbling at a cone and performing a move; or 1v1 challenges.
But in addition, it's a great idea to work on these fundamental skills through individual training.
Best Ways to Improve Soccer Fundamentals By Yourself
For passing, you can practice with a partner if you have one, or you can pass against a wall or a soccer rebounder. Make sure you're using both feet, and passing with all surfaces. Work on passing on the ground as well as driving and chipping balls.
Pass with the inside of your foot, the outside, and the laces. Pass one touch, and two touch while receiving the ball with multiple surfaces as well. This helps you work on two fundamental skills at once.
When you're receiving the ball and working on a proper first touch, make sure you stay on your toes and keep your head up. You also want to work on receiving the ball across your body and receiving the ball on the short hop
Dribbling is the easiest fundamental skill to practice by yourself. You can dribble around your yard, or even around your house or apartment. As with passing and receiving, make sure you are using all surfaces including the inside, outside, and laces. Work on dribbling through a set of cones or other objects, and work on performing a move while dribbling, like feints, cuts and step-overs.
For shooting, take a look at our article on How to Practice Shooting by Yourself at Home for plenty of ideas.
These are only a few ways to get started practicing your soccer fundamentals. What other ways do you know of honing these crucial skills?