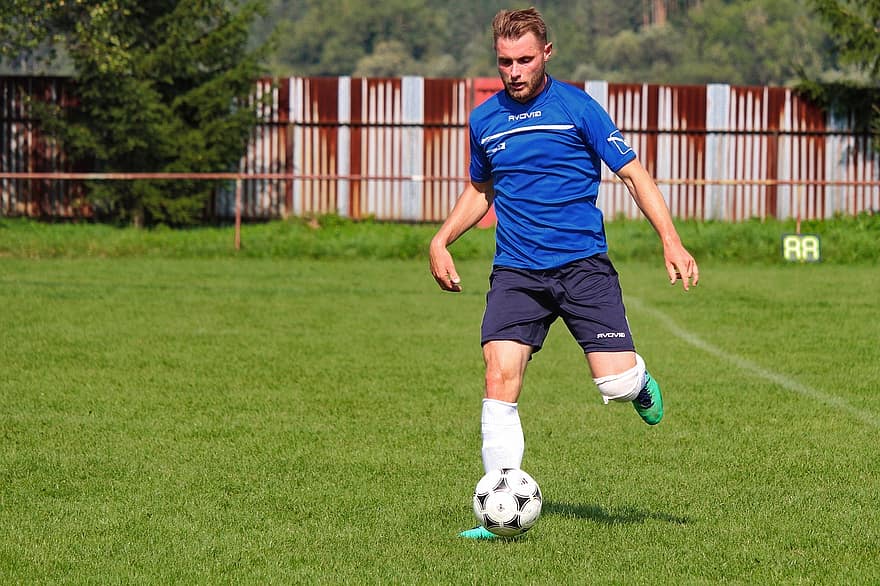 In soccer, most of us prefer to use one foot to the other. When training, in both team and individual settings, we are easily tempted to give our strong foot the most attention with our drills and exercises.
(Just to be clear: strong and dominant mean the same thing as do weak and non-dominant; it's not that one foot is physically weaker than the other, but rather that you are less skilled with using that foot.)
And in game situations, we also significantly favor that foot because it gives us more confidence that we'll be able to dribble, pass, and shoot successfully.
Why You Need to Improve Your Weak Foot
But as you progress to higher levels, you can't always just use your strong foot. When you find yourselves in tight spaces, being able to confidently use both feet will allow you to play quicker and keep the ball more.
When you're in space, being able to use both feet makes you more unpredictable to defend. On the wing, you need to be able to pass or cross while facing forward or after you cut inside, which requires the use of both feet.
And as you approach the opponent's goal, it's vital to be able to shoot with both feet so you can fire on goal without having to take extra touches to get the ball on your strong foot. If you do so, the chance will likely disappear before you can get a shot off.
And there are even more benefits of learning to use both feet, including better balance and stability as you move around the field.
So hopefully these points have convinced you of the need to improve your weak foot, so what specifically can you do to work on it?
Drills to Work on Your Non-Dominant Foot
Since the previous section referred to practically all of the fundamental soccer skills, you want to make sure that your weak foot practice is focused on multiple areas of the game. Specifically, you want to practice dribbling, receiving, and passing in a variety of ways.
But one of the first drills to work on is more simple: juggling!
This is a great way to get lots of touches with your weak foot in a short period of time, and improve your touch, balance and coordination all at once.
If you're just getting started developing your non-dominant foot, start small. You can begin with the ball in your hands, drop it, juggle once, and catch it again.
Once you become comfortable with your touch, you can increase it to two juggles, and then continue with more.
Before you know it, you'll be much more confident with your touches. Set a high number of juggles (like 100) without letting the ball drop and keep practicing until you reach it.
For working on passing with your weak foot, you want to be sure you are using all surfaces: like the inside, outside, and laces.
To practice, all you need is a wall to pass off of, or a soccer rebounder, or if you need to practice at home for whatever reason you can even use the back of a couch or chair (but make sure it's not something you will damage!)
Of course, a partner to pass with is ideal too if you can. But there's no excuse not to practice if you're by yourself.
Also work on playing both two-touch and once-touch with your weak foot. The two-touch will help you hone your receiving/trapping skill as well as getting your footwork more coordinated as you line up for the pass.
One-touch passing with your non-dominant foot is great for improving your technique and weight and accuracy of your passes.
Another way to get more work on your receiving is to throw the ball up in the air and practice controlling it with your non-dominant foot. Work on both the inside and outside of the foot.
As you start to gain confidence and skill on your non-dominant foot (possibly causing you to stop using the "weak" designation in your mind), you also should work on longer passes.
Ideally with a partner, work on chipping, driving, and crossing the ball at a variety of distances.
If you are training individually, you can set up a laundry basket or similar item and work on chipping/driving the ball into it. (This can be a fun way to set up challenges for yourself as well.)
For dribbling, you can easily set up a course for yourself with any everyday objects from cones to stray shoes. Set up a line of 5 to 10 spaced a few yards apart and work on dribbling though them with your non-dominant foot.
Be sure to start slow and focus on your technique and then gradually increase your speed. You can also move the items closer together to make it tougher.
All of these drills and exercises are designed to get you lots of touches and help you gain confidence.
After some practice, you'll feel much more comfortable going to either foot in practice and game situations, which will truly open up the possibilities for your game and take you to higher levels.