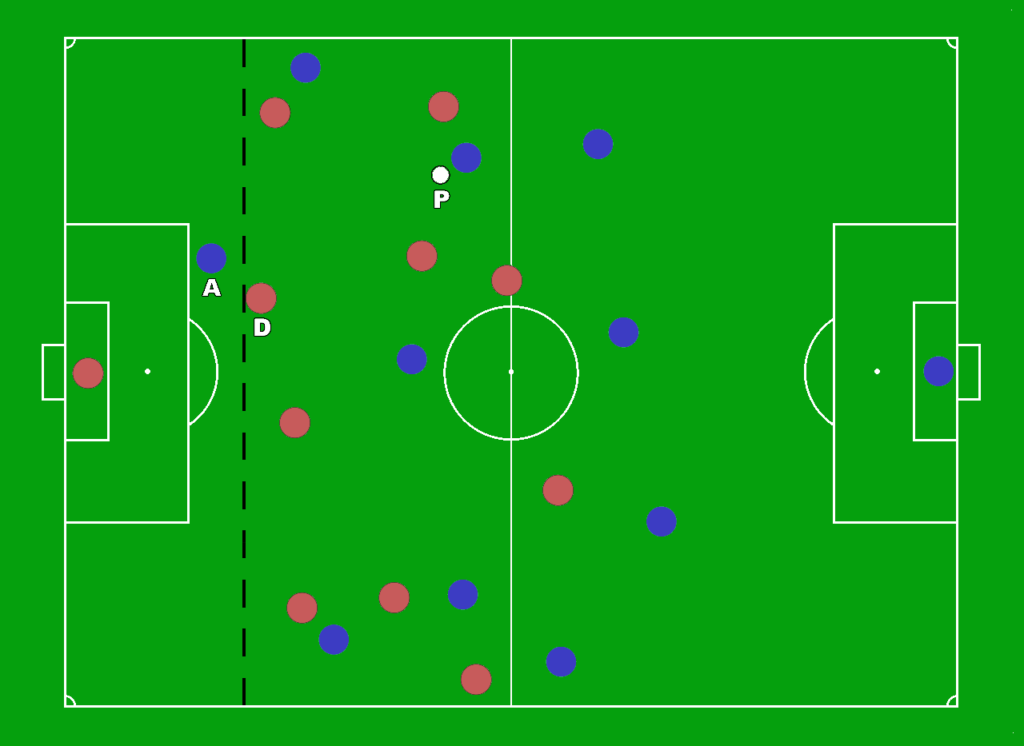 American sports fans sometimes suggest that soccer should do away with the offside rule. The thought is usually that this change would lead to more scoring, and therefore more entertaining games.
But in order to understand the impact this would have on the game of soccer, it's necessary to understand some key tactical principles that aren't as obvious to casual observers.
Taking away the offside rule would be catastrophic to what makes today's game exciting and would have major negative consequences.
Negative Consequences of No Offside in Soccer
Perhaps the most important concept to consider is space. Think about the large size of a soccer field, and how the offside rule serves to keep the different lines (defense, midfield, attack) relatively close together.
If there was no offside, offenses would immediately put a player or two directly in the opposition's box right near the goal and attempt to feed long balls to those players.
And to counter, defenses would send someone back there to mark the attackers. The back line as a whole, in fact, would need to retreat significantly, because they can't leave a huge space behind them that an opponent could get a head start running into.
This would result in a nearly empty midfield consisting of huge swaths of space, and a game filled with long balls and a lot of 1v1 battles, with very little of the cohesion, teamwork, and passing that make soccer a challenging and interesting game today. Players would tire more quickly as well.
In today's game, creating space is an elite skill. Masters like Messi make brilliant unpredictable runs to earn space.
Players must learn to operate in tight spaces, forwards must time their runs in order to get behind the defense, and defenders need to press and drop together with impeccable timing. These tactics would be all but eliminated with the abolition of offside.
The game would start to look like the youth game of World Cup where a mob of players in front of a goalkeeper all try to score.
For additional evidence, look at throw-ins, where there is no offside. If a team has a player with a long throw, the attacking team simply packs the box with numbers in order to have a chance to scrape together a goal.
Smaller Tweaks to the Offside Rule
So hopefully we now see the reasons against taking away the offside rule. But if we dig a little into soccer history, we will learn that although the complete abolition of offside would be catastrophic, smaller tweaks have already been made over the years. There have been two big offside law changes that took place in 1925 and 2005, both of which changed the way soccer is played.
In 1925, the offside law was changed from requiring three defending players between the forward and the goal to just two (Wilson 38).
This change led to increased scoring, according to Wilson: "On the face of it, the amendment was an immediate success, with the average number of goals per game shooting up to 3.69 the following season, but it brought about significant changes in the way the game was played.
The most obvious immediate effect of the change in the offside law was that, as forwards had more room in which to move, the game became stretched and short passing began to give way to longer balls" (38-39).
Another big change in the offside law came in 2005. Starting then, players had to be on the play by touching the ball or making contact with an opponent.
According to Wilson, "it has become increasingly difficult … for teams to play a hard pressing game with a high offside line, and so the effective playing area has been stretched from around 35-40 m to around 55-60 m" (357). So there is more space for players to play in front of the defense.
However, if you want more goals, then you want more space behind the defense, so you would want teams to play an offside trap which allows for well timed runs and passes.
With the rule change, "The offside trap has been rendered ineffective. The figures bear this out. Opta stats show that in 1997-98 there were 7.8 offside per game in the Premier League, after which there was a fairly steady decline to 6.3 in 2005-06. Since the new legislation came into force, there has been a further decline, to 4.8 so far this season."
The liberation of the offside law from 2005 has teams defending deeper allowing for more space in front for for teams to play soccer.
So, when we step back and take a closer look, we have already had rule changes that are actually in line with some of what American sports fans were asking for.
Finally, to bring things back to American sports, why not take away the illegal formation in NFL football and let anyone be an eligible receiver? We'd see way more touchdowns!
Of course, this wouldn't work; it would radically change the strategy, remove structure, make the game sloppy, and disadvantage the defense too much. Same with offside.
Works Cited:
Wilson, J. (2013). Inverting the Pyramid: The history of soccer tactics. New York: Nation Books.