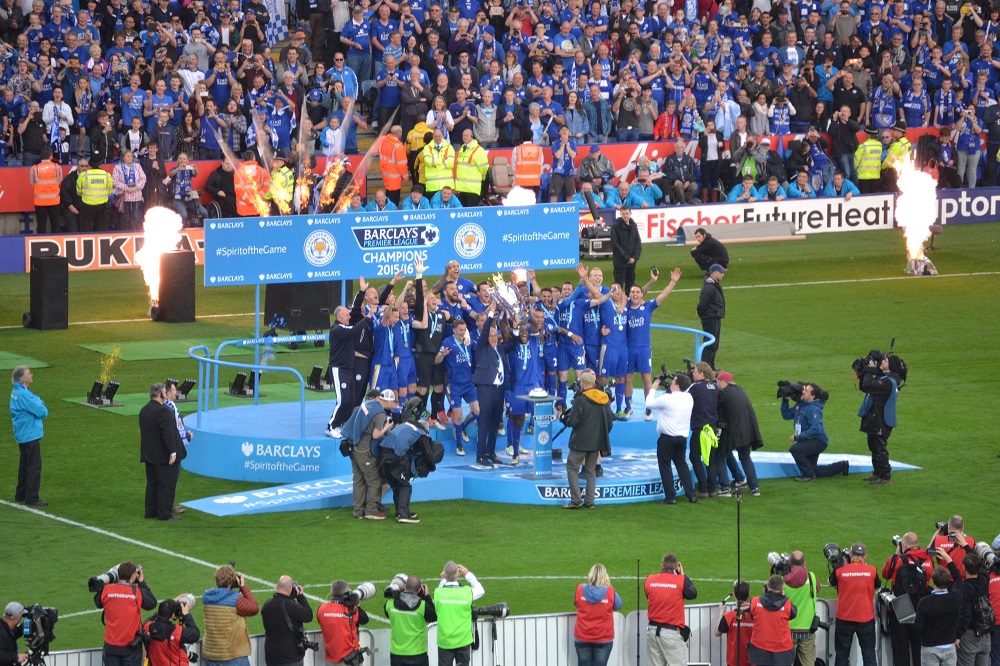 One of the best ways to get better at soccer is to learn from the pros, and with the recent boom in soccer streaming services there are more ways than ever to watch the best leagues from around the world on any device.
The English Premier League has always been one of the most popular, due to its storied traditions, rabid fanbases, and ambitious clubs keen on constantly putting together the best players from around the globe.
But as an aspiring player yourself, what should you be watching for to make sure you aren't just entertained, but also educated? Following the movements and actions of a single player (ideally who plays your position), throughout the game is always a good idea, and has direct relevance to your own play.
Another important principle is to remember to "take your eye off the ball." Although it's tempting to follow whoever has the ball in their possession at that moment, shifting your focus elsewhere helps you identify
But to become the best player you can be, it is also useful to consider your own role in the larger context of the team and its general strategy. Here the Premier League
In this article we will look at some tactical trends from last year, how they may shape Premier League teams' approach this year, and
Inverted Wingers as Goalscorers
Which players tend to be the primary goalscorer is another question that reveals a lot about a team. Are they banging in crosses to a physical number 9 striker? Playing through-balls to forwards or wingers? Do they defend and aim to steal a set piece goal from their big center backs?
One tactical trend in the Premier League in recent years has been the False 9 who drops deep to draw defenders out of position and initiate attacks. Because of this the space often opens up for wingers to make diagonal runs through or cut in themselves.
An added twist that we also have seen frequently is the inverted winger, which means that a left-footed winger lines up on the right wing and vice versa. This gives them an advantage in cutting inside and either crossing, dribbling or even shooting the ball. (As a bonus look out for the outside back on the same side to overlap when the inverted winger runs inside.)
For many Premier League clubs, these inverted wingers are expected to carry the bulk of the goalscoring load.
Last EPL season we saw two inverted wingers battle for the Golden Boot, Mohamed Salah of Liverpool and Heung-min Son for Tottenham. Look to see if this trend continues this campaign.
Rotating Positions / Positional Fluidity
The scenario we laid out in the last point, an inverted winger cutting inside and an outside back overlapping to maintain the team's width, represents a larger theme as well in modern football tactics that we see in the EPL. That is of rotating positions or positional fluidity.
The basic idea is that players can interchange and take on different positions and roles from what one would "normally" expect from their position.
To identify this, look for shifts in positioning when a team transitions into attack, like a center back dropping deep in between center backs, or a winger coming inside. It could even be an attacking fullback not just pushing forward but also coming inside, like Liverpool's Trent Alexander-Arnold.
The details vary by team, but often the goal is to create overloads and positional advantages and exploit them in the final third.
Manchester City recently have exhibited extreme fluidity up top due to their use of a False 9, often Bernardo Silva, and using Gabriel Jesus as a winger. One analysis called the side "extremely difficult to deal with due to them forever swapping roles and not staying in fixed areas. City have successfully destabilized defenses by firstly unbalancing them and then penetrating them." Now with Gabriel Jesus gone to Arsenal and big striker Erling Haaland signed, it will be interesting to see how Guardiola shifts his tactics.
Another team to look out for for positional fluidity is Leeds United. A Leeds reporter explained some patterns in article about their preseason: "Although Marsch likes a 4-2-3-1, this is by no means fixed positionally, and in all three matches, Leeds rotated positions. This was notable in central midfield (namely new boy Marc Roca), with a player dropping either between or beside the two central defenders and acting as the quarterback. Roca dropped between right centre-back and right-back, and Crysencio Summerville, playing on the right wing, moved into the vacated central midfield space; Roca then broke the Palace press with a vertical pass to Summerville, who received on the half-turn and drove forward."
Another example to look out for could be a center back who carries the ball forward and launches attacks, an especially effective strategy to counter the ever-popular high press: "Antonio Rudiger often did this extremely well for Chelsea but is now off to Real Madrid, and Erik Ten Hag also sometimes used Frenkie de Jong this way at Ajax, so it will be interesting to see if these or other clubs continue to utilize the strategy.
Counterpressing
This concept, known as "Gegenpressing" where it emerged in Germany, is certainly not a new idea in the EPL where it has been used to great success for years by some of the best managers including Jurgen Klopp. The idea is when you lose the ball to attempt to win it straight back as quickly as possible instead of falling back into your defensive shape.
High-work rate teams like Leeds will likely use this strategy frequently, as explained in the previously referenced article: "For Leeds to attack teams with vertical passes through the middle, they need space and a disorganised opponent, both of which are possible if you can quickly recover the ball. Critically, counter-pressing is a team activity, and Leeds often try to pincer press opponents by having multiple pressing players come from different sides of the ball. This cuts off passing options and hassles the player in possession into making a decision — and Leeds will hope it's often the wrong one."
As you watch this and other presses, ask yourself if the team is immediately pressing or waiting for specific cues. And since it is such a drain on player fitness and stamina, how long can the team do this effectively before they either become ineffective, give it up, or make substitutions for fresh legs?
Dominance of the 4-3-3?
The most popular formation in 2021-22 was the 4-3-3, especially among the top clubs like Liverpool and Manchester City, so it's likely to see this trend continue.
However, there are plenty of others that will see wide usage too, such as the 4-2-3-1. One manager who have made another formation a big part of their identity, we can look to Chelsea's Thomas Tuchel and his use of the back three in the 3-4-2-1 formation and its variations. With wingbacks who can drop back to make a back five when in the defensive phase, and two defensive midfielders to anchor the back line, it's a strong base to start from. It wouldn't be a bad bet to predict that more teams will use three at the back and wingbacks this year.
Another possible scenario is a return to more classic formations. It's important to remember that tactical trends happen in cycles; that is, with constant tweaking and reactions to new ideas. Because of this we sometimes see teams return to older strategies, albeit with different context and reasoning than originally. One soccer analyst has theorized that "as defensive blocks become increasingly compact and more space appears both in behind defensive lines and in wide areas of the pitch, we're likely to see sides adopt a more direct approach and return to formations like the classic 4-4-2." He continued by touting the counterattacking potential against possession-based 4-3-3 sides, the potential for overloads on the wings, and the benefits of two central strikers who can run in behind.
All of these concepts, of course, are just a sampling of the wide tactical variety we are about to see over a long Premier League season with 20 very different teams.
To learn more about these and similar soccer strategies (as well as how they developed over the years) take a look at our recommended soccer tactics books.