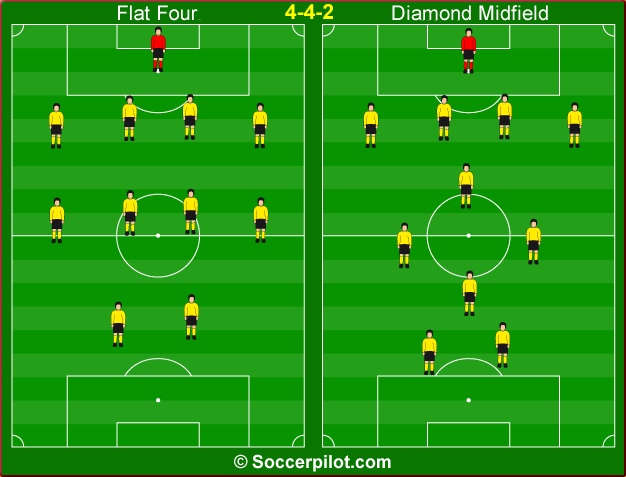 At Soccer Training Solutions, our focus is on individual training and showing players what they can do to improve their game outside of the structured environment of team practices and games. This motivation and work-ethic is vital for players aspiring to unlock their full potential.
But there's another element to continuous improvement that we also recommend: learning some soccer tactics.
Your individual training will give you lots and lots of touches and to develop your fundamental soccer skills like dribbling, receiving and touch.
These skills serve as your building blocks, but the way you put these blocks together to be the best player you can be requires knowledge of how they all fit into a larger whole in the context of real competition.
And it's important to clarify that I'm not talking about getting deep in the weeds on theoretical philosophies or a bunch of complicated Xs and Os diagrams.
I'm talking about the basics: common styles of play and how different teams (including yours) go about trying to win games.
Like with individual training, your team's practices and games aren't totally sufficient for developing the tactical knowledge you'll need to thrive.
For one, your coach will usually be teaching just one particular style of play (and depending on your age and level, your coach may be more of a motivator/organizer and not even have much tactical experience themselves outside of putting the best players in the game or making sure everyone has fun).
Your coach's style may be at odds with what you yourself need to thrive. We of course recommend you always listen to and obey your coach, but you also want to be able to identify where they're coming from in terms of how they set your team up and how that fits into universal soccer strategies you see in high school games all the way up to the English Premier League.
So what are some of these tactical concepts that are important for any player to know about?
At it's core, we're talking about what a team does to try to win?.
Do they try to possess the ball for long periods of time and gradually build up attacks? Or do they try to quickly spring forward and attack their opponent's goal?
Do they press the opposition and try to win the ball, or sit back deeper and stay disciplined?
This involves the formation (like 4-4-2, or 4-3-3, or 3-5-2) but it's also much more; any of those formations could be trying many different things tactically and put the players in different roles.
For example, in the team's midfield, is one player positioned farthest up the field and lead the attack? (A classic number 10). Do the players more or less equally push forward to attack and drop back to defend? (a number 8) Is there one or two midfielders who largely stay back and anchor the defense and start passing sequences? (a number 6)
When the team has the ball, does a forward try to run in behind the defense to receive a through ball? Or do they check back to receive it farther from the goal?
Does the team as a whole try to attack down the middle, or attack the end line from out wide? If the latter, who is it that provides the width and pushes forward? Outside backs? Wingers? (And who is ready to drop back immediately if possession is lost?) Do they mainly utilize quick, short passes or longer, more direct passes? Are any players a big part of the offense for their dribbling ability?
And in response, what strategies does the defense do to try to counter these strategies?
You can discuss soccer tactics with a ton of advanced terminology, but at the end of the day it's these types of questions that we're talking about.
So thinking about them in terms of your own team, and looking for them when you watch soccer on TV can make sure you have the larger soccer IQ that will serve you well throughout your playing career.
As a caveat, I'm not talking about burdening the youngest players with this additional requirement (although watching soccer on TV and in person is a great habit for players of any age to build). But by U-13 or U-14 or so, this type of thinking should be happening. (Some more good discussion in this article.)
To take the next step, you can read some of our tactical-related articles, start here. and/or let us know if there are any particular concepts you'd like us to talk about
If you want to take a deep tactical dive, take a look at our list of recommended books on soccer tactics.