Playing soccer is an excellent way to get exercise. Not only is it a physically-demanding game, but playing soccer also requires clear and clever thinking. This means that in order to play at your best, you must be in great physical and mental shape. 
This article focuses on the physical benefits of playing soccer and why participating in such a sport is a great way to stay fit and healthy. Ready to find out more? SO are we! Let's dive in. 
Physical Benefits of Playing Soccer
Heart Health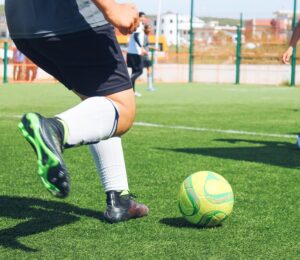 Playing a game of soccer promotes a healthy heart. But why exactly is this the case?
Soccer requires a player to run around a pitch for up to 90 minutes a game. Running, in any form, utilizes the body's cardiovascular system. When we run, especially at high speed, we require oxygen quickly; this means the heart must work faster to pump the blood throughout the body. 
Pumping blood quickly around the heart enables the body to produce more oxygen. The heart muscles become stronger as it is used to pump the blood. Therefore, playing soccer regularly is an excellent workout for the heart. 
Reduces Blood Pressure
Playing soccer requires constant movement; this helps reduce blood pressure as your cardiovascular system works hard to pump blood around your body. 
Lowering your blood pressure reduces plaque buildup inside the arteries and promotes healthy veins and blood vessels. Soccer players run around 7 miles every game; this works the cardiovascular system to the core and keeps the heart strong and healthy. 
Strengthens Bones
How does running around a grassy field strengthen bones? Well, you'll be pleased to know that this statement is true! 
The pressure applied to the skeletal frame during a soccer game encourages bones to strengthen. Strong bones also mean there is less risk of injury. As we get older, our bones become weaker. Therefore taking part in a physical game like soccer can help promote lifelong bone health. 
Improves Flexibility
Flexibility in football is more common than you think. Sure, it doesn't require the energy of a gymnast or the contortion of an expert yogi – but players need to be able to jump, slide tackle, and swivel their body throughout the game. 
Regularly playing soccer improves flexibility which means over time, your body will be comfortable performing a range of movements to enhance your performance. 
Reduces Body Fat
If you want to lose weight and get into shape, playing soccer is a perfect choice. 
The game requires players to burn a hefty amount of calories through aerobic exercise. Thus, you will gradually notice a difference in your weight after a few games. 
Builds Muscle
You will also be glad to know that playing soccer builds muscle. If you have never played before or haven't played in a long time, you may feel quite sore after the first two or three games.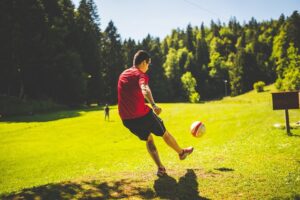 This feeling is down to your muscles fibers tearing as you run, jump and twist as you play. The muscles then fuse back together – this time stronger. Strong muscles are vital to give you the energy you need to play. 
Builds Stamina
Playing soccer is exceptionally intense, and players must be able to play a whole game without tiring. Stamina and endurance are needed to play successfully. Both of which require extreme mental and physical focus. 
Stamina is built through determination, relentless training, and pure focus. However, running for 90 minutes will seem like a piece of cake after a few games! 
Improves Coordination
Eye-to-ball coordination is essential if you want to be a successful soccer player. The game is entirely focused around the ball. Playing soccer regularly improves coordination skills.
A game of soccer requires more than just being able to run. Soccer is a fast-paced game, so you need to be agile in passing, dribbling, and shooting the ball. 
Similarly, quick reflexes are needed. A player needs to react quickly to actions performed by the opposition. 
Improves Joint Flexibility
As we get older, our joints tend to stiffen up if we do not use them as much. Playing soccer regularly can prevent this from happening and is a great way to keep those joints' oiled'!
Mental Benefits of Playing Soccer
Reduces Feelings of Stress And Anxiety
Endorphins are a feel-good chemical that is released into the bloodstream during exercise. Soccer, along with any form of exercise, releases endorphins. These chemicals are famous for making people feel at their best. 
These endorphins reduce feelings of stress, depression, and anxiety. Although this is not necessarily a physical benefit, the mind and body are connected.
Confidence Booster
Youth soccer is the perfect way to boost your little one's confidence. The game relies on team spirit to play successfully; this means that every player has a job to do to achieve a literal goal. 
Self-confidence is a fantastic skill for young children to have. It can be applied to every aspect of childhood and adult life. 
Builds Healthy Relationships
Playing soccer helps individuals to build relationships with others. The game is highly focused on communication with other teammates. Each player develops a shared understanding of how to work together to win a game. 
Provides a Sense of Responsibility 
Being part of a soccer team gives individuals a sense of responsibility and something to work towards. 
This can be important to individuals who enjoy being part of a successful team. It provides people with a sense of pride and respect. 
Conclusion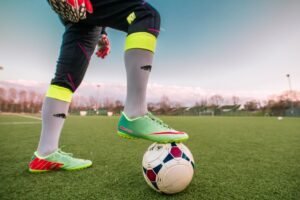 The physical benefits of soccer are endless, and the ones we have covered in this article are just a few. Whether you are new to the game or play regularly, the physical benefits are great for changing and improving your health. 
Playing soccer has countless physical and mental benefits that will not go unnoticed if you plan to put this article to the test!