Youth soccer is exciting to watch, especially when one or more of the youngsters on the field are your family or friends. Not only is youth soccer a great source of exercise for children, it encourages them to work as a team; this is one of the most important skills a child can learn from youth soccer and one that can be used throughout their life. 
But at the younger levels it can be difficult to see much structure out there aside from a mass of kids chasing the ball. If you're a youth coach, or just a parent who wants to know what's happening on the field, understanding the different youth soccer positions is crucial.
This article will cover each youth soccer position and why it's important. Ready to find out more? Let's get to it. 
Are There Actually Positions In Youth Soccer?
When talking about positions in youth soccer, the first question to ask is what age group you are taking about. Because the youngest ages play smaller-sided games with fewer players on each team.
When players are just starting out, it's important for everyone to begin to learn how to control the ball with their feet, run around in different spaces on the field, and begin to see the basics of both defending and attacking.
Putting them into fixed roles would be confusing and counterproductive to their development. So you will either see players playing without fixed positions (in U-6 or U-8) and at slightly older ages positions with much wider latitude. Then s players get older, then the specialization of positions begins in earnest.
The rest of the article will break down the basics of the role of each position for these age groups.
Key Youth Soccer Positions
Goalkeeper (GK)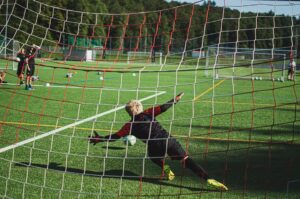 This is the most obvious position to spot, and it also won't be seen at the younger levels. In general, the goalkeeper's job is to prevent the opposing team from scoring. The goalkeeper guards the net, and their duty is to prevent the ball from entering it.
Goalkeepers (also called goalies) have a critical job to do in a youth soccer game and sometimes feel additional pressure due to their role.
At the younger youth levels, teams are small and so are the goals, so there is no goalie. Normally age 9 or 10 is when the goalkeeper position is introduced.
Defenders (RB, LB, CB) 
The job of a defender is to prevent the opposing team from attacking. To do this, defenders will often form a defensive line to stop or slow down the opposition's attack and work to pass or clear the ball to midfielders when they have the ball.
Defenders are split into categories; right-back (RB), left-back (LB), and center-back (CB). 
Right-back defenders work to prevent attacks on the right side of the pitch. Similarly, left-back defenders work to prevent attacks on the left side.
Center backs are an extra layer of security and work to prevent the opposition from moving the ball further up the pitch. They are positioned in front of the right and left defenders.
Midfielders 
This is an important position in a soccer team. The duty of a midfielder is to stop the opposing team from attacking the defenders. The key to being a great midfielder is to have excellent passing skills. Midfield positions include:
Midfielders

Defensive midfielders

Attacking midfielders
Midfielders cover a large area of the pitch except for penalty boxes. Defensive midfielders are positioned at the back, and attacking midfielders are positioned at the front.
Attackers
Attackers are also known as the strikers and are responsible for scoring goals. The duty of an attacker is to score a goal by either running with the ball passed to them by a member of the team or with help from midfielders to get the final pass and aim their shot in the net. They also do have some defensive responsibilities given that they are the first line of pressure. In today's game, even with fixed positions, no player has only one role at all times.
Team Formation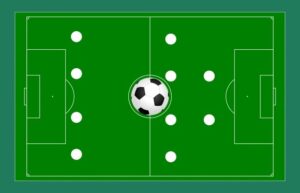 It is common for youth soccer teams to have less than 11 players on each team. As previously stated, having fewer players allows the youngsters to develop and improve their skills since they will all get more touches on the ball.
Youth soccer teams can have as few as three players on either side. Eventually, teams can play with a 11v11 formation which is the most a team can have. However, both teams must have the same amount of players. 
6v6 Formation
For players about 9 and 10 years of age (U-10), you will usually six players on either team. The players still need to take up the same space, so in this case, managers usually choose a 2-2-1 format consisting of the following:
Goalkeeper

Right Defender

Left Defender

Right Midfielder

Left Midfielder

Attacker/Striker
For a 7v7, managers will choose a 2-3-1 format. The extra player will add a central midfielder to the game. This formation is ideal for players aged between 7 and 9. 
An 8v8 adds an additional player to each side and is known as a 3-3-1 format; this includes a central defender for each team. 
A 9v9 has a 3-3-2 format. With this many players on each side, the attack for each begins to strengthen considerably. 
A 10v10 format is rare, and because the team has almost reached total capacity, many managers will opt to use a 11v11 form instead of a 10v10. This consists of an entire team of youth soccer positions which looks like this:
Goalkeeper

Defenders (right, left, center)

Right side center back

Left side center back

Defensive Midfielders 

Midfielders (right, left, central)

Striker
Youth Soccer VS. Professional Soccer
There are many differences between these different games, which we will explain. 
Jersey Shirt Numbers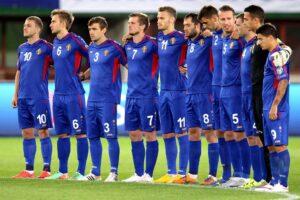 Firstly, youth soccer players wear jersey shirts with a number on the back that ranges from 1 to 11; this identifies the position of a particular player. A good example is one discussed above in that goalkeepers usually wear a jersey shirt with a number 1 printed on the back. 
This is unnecessary for professional soccer, and players' numbers do not correlate to a particular position. Instead, professional soccer players often choose a unique number that does not hold any significance to the game itself. Whether it be 17, 35, or 21, this number is how the referee can identify a player. 
Funding
Another difference is the money behind the game. There is no way near as much funding for youth soccer as professional soccer. While many youth soccer players are often scouted to play professionally, they only begin to earn money when they make it onto a professional team. 
Duration And Pitch Size
It goes without saying that younger players cannot run around for as long as older players. Therefore, the duration of youth soccer games is typically shorter than that of professional soccer. The size of the pitch is also significantly smaller for youth soccer players. 
Conclusion
Overall, the popularity of youth soccer is seen in the variety of teams available to play on, as well as the array of soccer gear made especially for children like youth cleats and balls. If you enjoy watching youth soccer or would like to join a team, it is crucial to know how youth soccer positions work. 
Each player has a vital role in a youth soccer team, and each position requires a certain skill to prevent the opposition from scoring a goal. Whether you are a goalkeeper, a defender or a striker, knowing your position in a team is vital for a successful win.