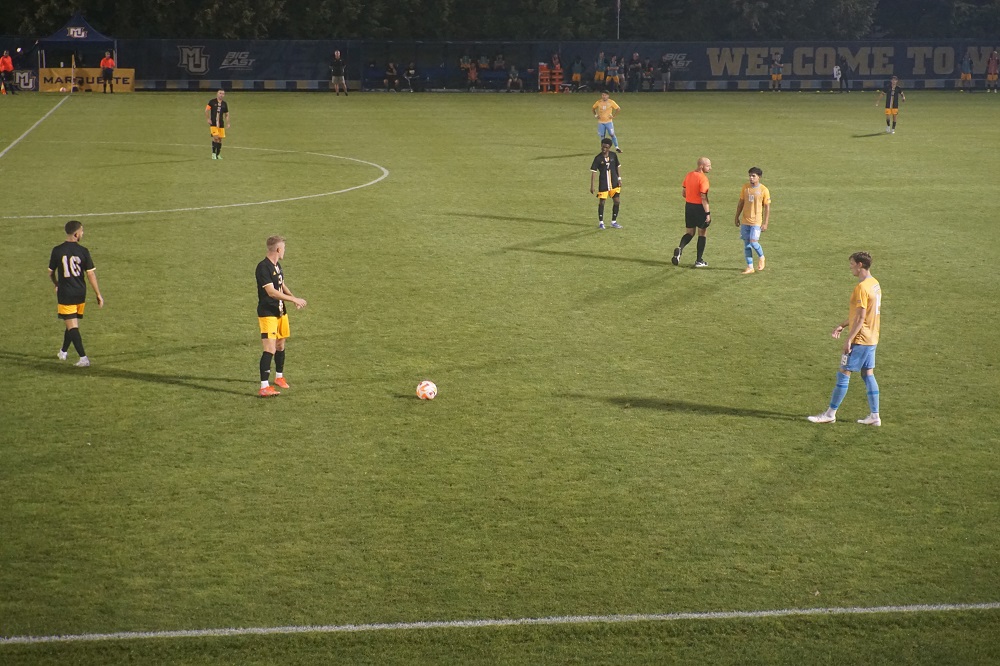 For youth soccer players, the journey to becoming a better player is a continuous learning process. While regular practices and games play a crucial role, there are other ways to gain a deeper understanding of the sport.
One easy opportunity lies right there in your own community: watching local high school and college soccer games.
By going to these games and paying attention to the action on the field, youth players can gain a wealth of knowledge of techniques, strategies and other soccer concepts which can make a big difference in their own development as a player (especially when a parent or coach talks with them about the action on the field).
These benefits are actually backed up by research, as a phenomenon called "nonconscious behavioral mimicry" means that individuals unwittingly imitate the behaviors of another.
This article will outline a few specific things to look for when watching games.
Watch for Technical and Individual Skills
One of the most noticeable differences when watching older and more experienced players are their technical skills, sharpened by years of practice.
Encourage younger players to pay attention to the players' first touch, passing accuracy, control when dribbling and shooting techniques. They might see a player try a feint or cut or other move and become inspired to try to learn it themselves. And on the other side of the ball, they may be impressed by a defender playing lock-down 1v1 defense to stop an attack in its tracks.
Watching for these skills and related skills can inspire youth players to keep practicing and honing their own fundamental skills.
Essentially, it helps them learn the how and why of their own team practices by seeing it applied at a higher level.
Tactical Awareness and Positioning
High school and college soccer games also allow youth players to sharpen their sense of tactical awareness and how players position themselves on the field.
Watching how players move during different phases of the game can provide valuable lessons, including how they create space, move into threatening positions, and coordinate their positioning with teammates. How long does each team try to pass the ball around before they try to move forward into the attacking third?
On the defensive side of the ball, see what positions each player takes in relation to their teammates. Take note of their decision-making processes, their ability to read the game, and how they adapt to changing situations.
Studying different defensive formations, pressing strategies, and counter-attacking styles can provide youth players with a deeper understanding of the game's intricacies.
Game Intelligence and Decision-Making
The pace and intensity of high school and college soccer games provide a great opportunity to view soccer IQ in action and learn about the importance of quick decision-making.
Watch how players assess their options quickly, anticipate movements, and make split-second decisions. Take note of their ability to recognize space, exploit mismatches, and execute passes or shots at the right moment.
Youth players can learn to think ahead, develop better field vision, and improve their decision-making skills by analyzing the choices made by more experienced players.
Focus On a Player Who Plays Their Position
For all of these concepts it's a great idea to identify and focus on a player who plays the same position (and if the youngster(s) play multiple positions, they can choose one at a time). See what they do when their team is on offense, on defense and in transition moments (when the ball has just been won or lost).
For example, midfielders play a pivotal role in controlling the game's tempo, distributing the ball, and transitioning between defense and attack. Youth players observe how midfielders distribute passes, maintain possession under pressure, look over their shoulder before receiving the ball, and more between different areas of the field.
Taking Your Eye Off the Ball
A big part of the value of watching soccer comes from taking your eye off the ball; seeing how players make runs, drop back or push up, track their mark on defense, and more helps players of any age gain a fuller understanding of how to play at a higher level.
As you watch, try to identify ways in which players can impact the game even when they don't have the ball.
This is a major benefit of watching soccer on TV to get better and games in person are even better for this because you can see the whole field instead of just what the TV camera decides to show (which is the ball and the area immediately around it).
Sportsmanship, Leadership and Learning from Mistakes
In addition to technical and tactical principles, youth players can also draw broader lessons from their watching experience. Observing how players conduct themselves on the field and interact with teammates, referees, and opponents, can serve as valuable lessons. Point out times when players help each other up, speak to the ref politely, and other small moments of mutual respect. Encourage young players to learn from positive role models who exhibit sportsmanship, respect, and teamwork.
Similarly, some young players might be afraid of making mistakes, which can sometimes discourage them from trying new things or being confident in a big game. Show how even high school and college players make mistakes, but don't let it get to them and instead keep
Age Appropriate Lessons
The details of how to point out and discuss these concepts with your youth player(s) will of course depend on the level of game you're watching and their age. A U-12 player aged player watching a high school game will be much closer to the level of play than a U-10 player watching a D1 college game. The lessons learned can be more specific and technical for older youth players and more general for younger ones. Similarly, older youth players watching high school games should be able to much more closely identify with the game being played compared to their team, which can help them gain confidence that they can one day soon play at the same level.
Finally, this same strategy can certainly be used for watching professional games as well. We focused on high school and college soccer because these are likely already close by in your community and are free (in the case of many college programs) or low cost. Families likely already have an older sibling or friends playing at the high school as well.
If you are lucky enough to live close to a pro team, you can certainly try these same things out with youth players too! And if you have a semipro team like USL League Two, it's likely to feel somewhat similar to a college environment although of course the level of play will be higher.
If you watch high school or college games with youth players, how has it gone?