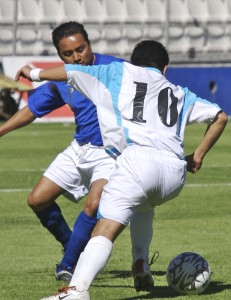 Dribbling is a crucial skill to develop from as young an age as possible.
Kids may not be able to understand soccer tactics such as spacing or be able to complete more nuanced tactics such as effective passing, but dribbling is much more natural and an accessible skill.
And it's certainly not just for kids, as dribbling is important at all levels of play. Being able to dribble past defenders is a learned skill and takes lots of practice.
Even midfielders and defenders must also be able to dribble in different situations, so it's crucial for everyone to practice it regularly, not just forwards.
As with most skills, lots and lots of repetitions are crucial to improvement. This is where dribbling has a clear advantage over other skills, as you can dribble a soccer ball around all the time.
If you want to get better, start to dribble a soccer ball everywhere!
Dribble in your backyard, dribble through the house (if you're careful not to break anything), dribble on the walk over to your neighbor's house.
Dribble in tight areas and try moves to get around objects or people.
Dribbling a soccer ball around all the time will allow you to be comfortable on the soccer ball and pick your head up. And ultimately, it will help you keep control of the ball when you get to a game situation.
How can dribbling improve your game?
We've already mentioned that all players need to feel comfortable dribbling, no matter their position.
Dribbling allows you to keep possession, put your team in a numbers up advantage situation and create your own shot, to give a couple of examples.
Next time you're watching a soccer game, keep track of all of the situations where you see players dribbling. It will be a lot more than just forwards trying to get by a defender in the attacking third.
Do you see a defender under pressure who needs to dribble to open up a passing lane? Or a midfielder tracking back and keeping possession?
How many dribbling moves do I need to learn?
Fancy moves can look impressive, but players really need just two to three moves. You need a move to go each direction: left and right.
These might be different types of cuts with different surfaces, step-overs, or similar techniques.
If you want to take your game to the next level, then you need to combine two or three moves together.
How do I practice soccer dribbling moves?
In order to effectively practice dribbling, you need to develop the motor skills and muscle memory for your two to three favorite soccer moves.
First, start off performing the move slowly for five reps to get the motion down correctly.
Next, perform the move at about 75% of full speed for five reps. Finally, practice the move at 100%.
You will need to do this for each move. You can practice your soccer moves anywhere, but an open grass area will work best.

If you want access to a complete library of dribbling moves, plus daily training plans that will help get you playing better faster, check out our soccer training system.
Do you do anything particular to practice dribbling? If so let us know in the comments.