Dribbling is a key soccer skill and it's one that's pretty easy to practice. If you have a ball and a grassy area to play in, you can easily work on your skills by yourself since dribbling is at its core an individual act.
But if you want to commit to improving your dribbling as significantly as possible, you'll want to add some structure to your individual training.
Specifically, using soccer cones for dribbling is a great way to practice because they allow you to replicate more game-like situations: quick changes of direction, dribbling in tight spaces, and practicing different dribbling moves (link).
Getting a small set of soccer cones, ideally disc cones but full size ones work fine, is cheap and can be a good investment. And if you don't have any cones at all you can set up a series of shoes, other balls, or similar small objects for you to dribble through.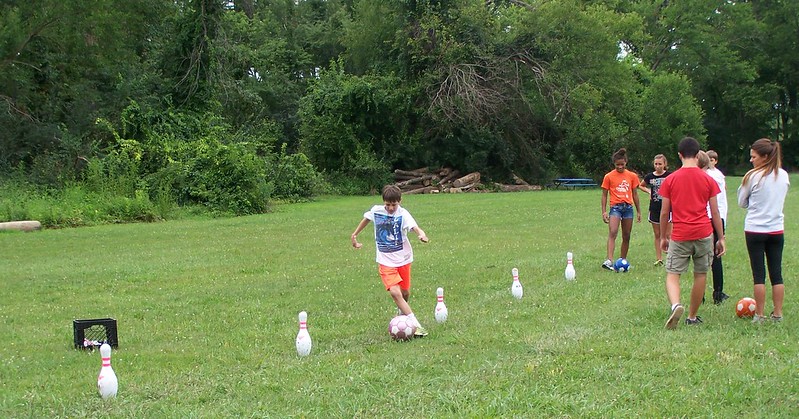 Next we'll look some good specific exercises you can do with your cones (or other objects).
Best Soccer Cone Dribbling Drills
When it comes to actually setting up cones for working on your dribbling individually, there are multiple ways to do it.
One is to set up a straight line line of cones for you to dribble through (like with the bowling pins in the above image).
The closer you space the cones, the more difficult the drill will be.
Where to Place the Cones: Setting the cones down in a straight line about 2 yards apart will help you with close control, while increasing the distance is good for beginners since it gives you a little more space.
Once you have your "course" set up, start dribbling!
Keeping Close Control: Weave through the cones while keeping the ball close to your feet so you remain in control. Learning how to do this is essential to becoming a
You also want to make sure to master the movement first, and only then try to do it at speed. If you try to go at a quick pace from the start, your form will suffer and you won't get much benefit.
Dribbling with All Surfaces: Also make sure to dribble with both the inside and outside of your feet. You can choose a pattern of touches, for example cutting one direction with the inside of the foot followed by an outside touch with the other foot. Then vary it up.
In addition to dribbling through a straight line, there are other ways you can set up your cones. One option is to set up the cones in a T formation and dribble to the middle top cone, cut to one side, do a turn around that cone, sprint dribble to the other side, and then dribble to the bottom cone. Any dribbling exercise also helps with your fitness and this one especially so.
You can also set up three cones in a triangle about 2 feet apart, and dribble through them similar to how you did with the straight line.
Specifically to help you work on your dribbling moves, like the stop and go and the pull back V, you can do a great drill with only one cone.
Dribble at the cone from about 10 yards away and treat it as a defender. Perform your move without getting too close, and then change direction with a burst of speed into space.
When you're learning how to dribble to beat an opponent, change of pace and change of direction are the two crucial aspects to doing it successfully, so focus on those with all of your dribbling practice.
What's next? Some of our other articles go into even more detail on specific dribbling exercises and goals, so take a look at those for more ideas and inspiration:
2 Dribbling Drills for your Backyard
We hope this information is helpful to you in upping your individual training for dribbling. Cones are a very modest investment that can pay off big down the line with the structure they can give to your dribbling exercises. If you have any comments or questions, let us know in the comments section below.