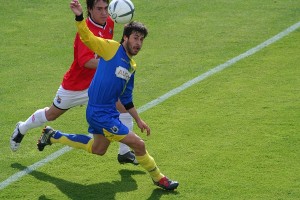 In soccer, defending is a team concept. When you're defending, your entire team, not just the defenders, is working together by communicating and staying compact in order to protect the goal.
If just one player is not doing his or her job, your team can suffer a breakdown. This is why 1v1 or individual defending is so important.
Everyone on the soccer field must be able to defend and understand the principles of defense, including pressure, containment and ball-or-man.
Applying Pressure
Applying pressure happens right after your team loses the soccer ball. There are two key points when applying pressure.
The first point is that you must not over-commit. Most commonly, players overrun the play because they are too eager to win the soccer ball back, but this mistake will expose your team.
Instead, you must break down into a good athletic stance making sure you are on the balls of your feet so you can move and cut quickly.
The second point is that you must force the attacking player to put his or her head down.
You achieve this by applying enough defensive pressure on the player with the soccer ball.
If you do not apply enough pressure, the attacking player will be able to see options and complete a pass more easily than if his or her head were down.
Containing the Attacker
After applying pressure, you must contain or delay the attacking player. You want to force the attacking player into an area where you have defensive cover.
It's important to understand that you yourself do not always have to win the soccer ball.
You just want cause the attacker to run into another defensive player or to play the ball backwards. If the attacking player plays the ball backwards, then your team will gain ground offensively without even touching the ball.
However, you should be cautious when coming forward because the offensive team is often trying to spread you and your team out. You must move forward as a unit and to stay compact.
Ball-or-Man
The last defensive principle is ball-or-man but never both. This principle applies to certain situations in the game.
For example, when attacking players perform a give-and-go in a dangerous area of the field, then you do not want the attacking player to get on the end of the give-and-go.
You should turn your body to run for the ball and also get in the path of the attacking player.
The best result is that you intercept the pass. If you do not intercept the pass, then you can at least get in the path of the attack player to slow him/her down.
You may receive a caution for not playing the ball.
There are other situations during a game where this principle can come into play, such as when the other team is on a counter-attack, when you are the last defender (WARNING: a foul here may result in a red card), when you do not have proper cover from your secondary defender.
Remember this principle should only be used in certain situations and that you can receive a caution for using it. It should be used sparingly and always with caution.