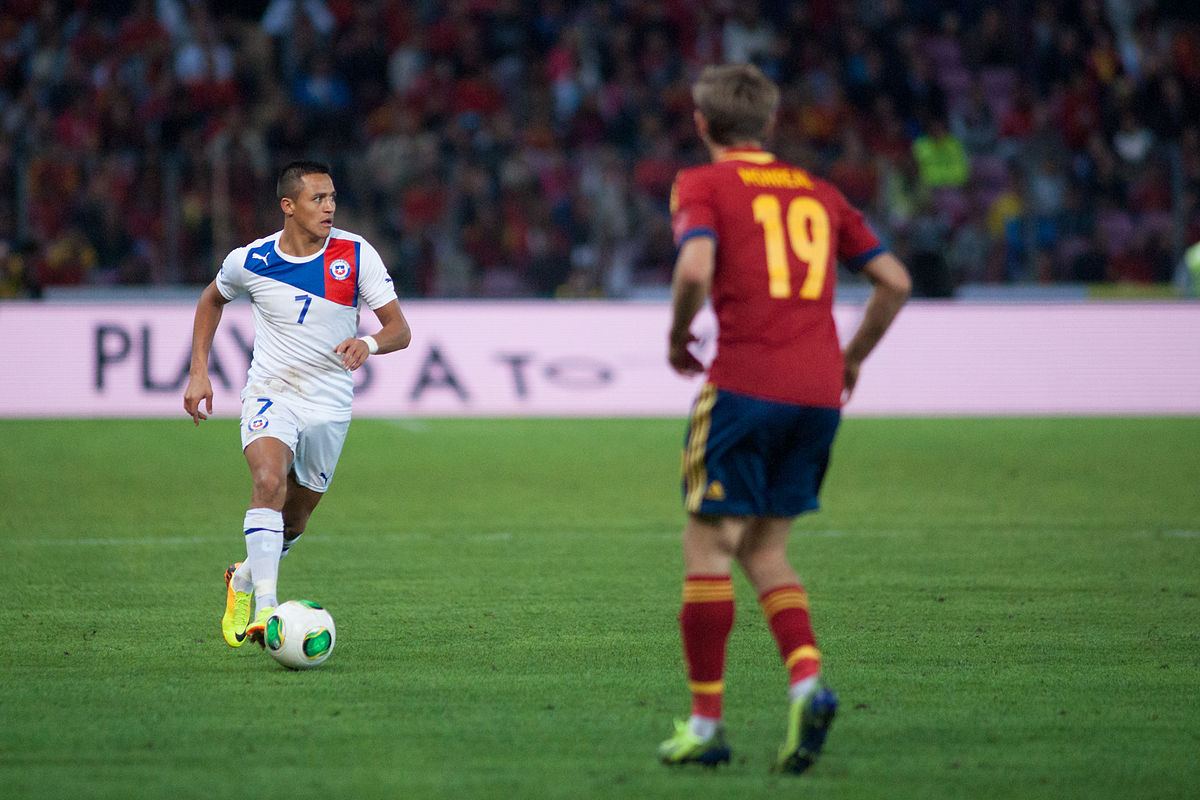 Simply put, soccer is a game of space. The team that can best control and exploit it is in most cases the team that wins the game.
And as a result, players who are skilled at creating their own space usually find quite a bit of success and are highly desired.
So what can you do to hone and improve your ability to create space?
This article will go over some useful strategies, focused specifically on the midfield, although most are useful no matter where you play. (Forwards have some other specific tips separate from these too.)
Notice how many of the techniques are used when you do not have the ball.
Tips for Creating Midfield Space
Look Over Your Shoulder
One thing that separates the best midfielders from the rest is that they consistently scan their surroundings when they don't have the ball.
This is most important when you have your back to goal, but it also comes into play when receiving on the wing and in other positions.
By looking over their shoulder, good midfielders know where their teammates and defenders are located and where the space is.
They know when a turn will put them in danger, when there is space they can burst into with a quick turn, or when a one-touch pass to a teammate is the best course of action.
Players who don't look over their shoulder wait until they receive the ball and then figure out what is around them and where they can find space.
But very often, this is too late. They'll turn straight into a defender or fail to find a temporarily-open teammate or dribbling lane.
As a midfielder, work hard to build the habit of looking over your shoulder all the time so you know what to expect before you get the ball.
Receive the Ball and Turn Faster
Once you have developed the habit of looking over your shoulder, you still need to be as quick and efficient as possible when the ball arrives in order to take advantage.
Thus, it's crucial for midfielders to turn fast and to receive the ball in ways that will allow them to quickly move into space to make their next move.
One specific move to add to your arsenal is the No Touch Turn, where you open your body up and let the ball roll past you and into space without taking a touch.
Also practice turning with multiple surfaces, like the outside of your foot, and be sure to use both feet. This way you can be confident in your ability to quickly take your first touch into space before it disappears.
Also, you should always receive the ball with your back foot when getting a lateral pass across the field. This lets the ball run across your body and opens you up so you can make your next move faster before a defender closes down your space.
You can also use moves to create space when you have the ball in your possession. Stop and Go moves are especially useful for getting your opponent off balance and creating separation.
Change Direction with Runs and Quick Moves
A crucial aspect of finding space in the midfield is being quick and unpredictable with your runs so that you shake off your defender before receiving the ball.
You want to utilize sudden changes of direction so your movements are difficult to predict. Move both away and closer to the goal so you pull your opponent into uncomfortable positions.
Try techniques like faking a run forward and then cutting back to the ball. By coming up with and perfecting 3-4 set moves like this, you have some go-t0 patterns that you can use in any situation.
Also remember to be aware of your surroundings by keeping your head up. If you see that your defender is looking at the ball and not you, this is an ideal time to create separation.
Improve Your Shielding Ability
Another way to create more space for yourself is to simply prevent the opposition from getting into your space.
When you have the ball (or are in the process of receiving it) you can do this with shielding.
Overall, you want to keep your body between the ball and your defender. This helps you create distance from the defender to the ball and is especially useful in tight spaces.
We hope that these tips on creating midfield space have been helpful. In addition to moves that you can do as an individual, you also create space by combining with your teammates in the midfield.
By performing quick one-twos and passing and moving, you can exploit the spaces that your opponents are unable to cover.