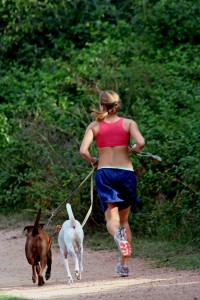 Summer is a time to relax and have fun, but also get into shape for your upcoming soccer season.
For many players, your club soccer is just about to end and you will have a couple of months of free time before your high school season begins.
(And even if your season is on another schedule, it is likely there will be a summer break in there somewhere.)
Summer is a crucial time to get into soccer shape, and this post will outline the best ways to stay in soccer shape over the summer.
Setting fitness goals for soccer
When you physically write down the goals you wish to accomplish, you are more likely to follow through and succeed.
One good goal is to be able to run 2 miles in 12 minutes.
Another goal should be the number of push-ups, abs, lunges, and split-leg jumping squats (jumping lunges) done in a week. You should try to raise the number by at least 1 each week.
Just get out there and run: A way to accomplish the first goal above is to get a watch, pick a running loop (whether it is shorter or longer than 2 miles), then try to run it faster each time. Then periodically test your 2 mile time throughout the summer. (Check out our post on Interval Training and the Importance of Change of Pace in Soccer.)
Does Playing Other Sports Help You in Soccer?
You bet! Other sports can be great for improving your soccer fitness, such as basketball, tennis, swimming, kayaking, rock climbing, and biking.
Aside from being fun, other sports have distinct fitness benefits.
For example, playing basketball allows you to work on your lateral movement while getting in a lot of short sprints. Tennis is the same way.
Swimming, on the other hand, will help improve your cardiovascular fitness.
Kayaking will help your arm strength to shield and hold opponents off.
Rock climbing is a full body workout which improves the strength of your arms and legs.
Biking will help strengthen your legs.
Especially for those who have to force themselves to go running each day, playing other sports helps spice up your summer while helping you to prepare for the upcoming soccer season.
Play Soccer! (And What to Focus on)
Finally, there is no better way to get into soccer shape than just playing the game itself.
If you are a defender, then try to make more attacking runs out of the back to get more running in.
If you are a forward, then try to track more guys down from behind. As for a midfielder, try to play box-to-box to get the most fitness in that you can.
Best Time of the Day to Train for Soccer Fitness?
Finally, when working out, you should take into account the time of day.
The hottest part of a summer day is usually from 2pm-4pm.
Many players would not work out during this time, but I think that it is a great time to work because your workout is intensified with the heat.
If you can perform in intense heat, then it will only make the games in optimal weather like a walk in the park.
If you are going to do this, however, be absolutely sure to stay hydrated and stop if you are feeling overheated.
This also depends on your location. If you live in a hot region where there may be a heat advisory, we do not recommend practicing then and instead in the morning or evening when it is cooler.
Photo credit cempey