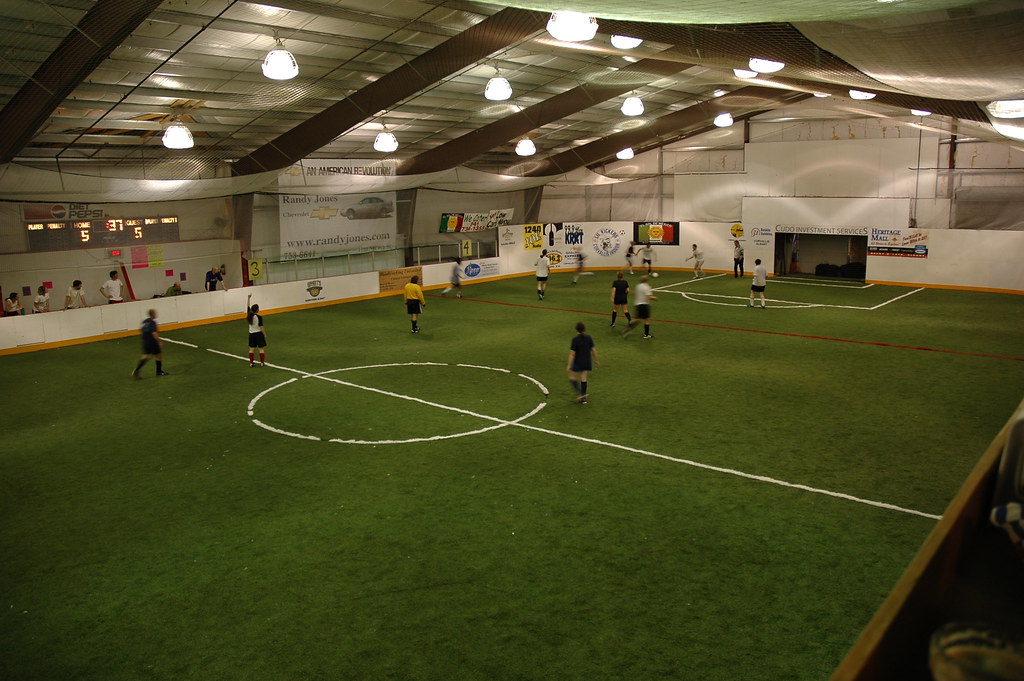 With winter in full swing, our attention has turned from outdoor to indoor soccer.
This article will outline a training approach that will allow you to be effective when playing indoor soccer, and the best part is that these skills will translate into making you an effective outdoor player as well.
(If you're simply looking for any exercises you can do inside, like at home, read this article.)
Indoor vs. Outdoor Soccer Training: How does Indoor Differ?
The major differences between indoor and outdoor soccer suggest some differences in the ideal training regimen.
Indoors, the field is of course smaller and the surface is also faster. You have fewer teammates on the field and are also shooting at a smaller goal.
So that does this mean for training and improvement?
For one, you have more time on the ball in a smaller space, so by merely playing lots of indoor soccer, you'll get a lot of touches in, which can do wonders for your technical skills. By playing indoor, you'll also improve your stamina and endurance.
But there are a few other key skills that get amplified in the indoor environment. By improving these skills, you'll increase your level of play indoors, and also see gains when you return to the full-size game outdoors in the spring.
Drills and Exercises for Improving at Indoor Soccer
Shooting: Indoor soccer is an exciting proposition for a forward who loves to score goals. Due to the smaller size of the field, you're almost always in shooting range, but at the same time the smaller goal demands pinpoint accuracy if you wish to evade the goalkeeper.
Practice shooting at a target (which could be the corner of a real goal or just a spot on the wall) using multiple surfaces and both feet so you're better able to take advantage in an indoor game.
Make sure to practice hitting a moving ball, like in a game situation. (You can roll it forward with your sole, play it off a wall or rebounder for you to shoot, or recruit a teammate to play a ball for you to shoot.)
Read how to practice shooting at home for more tips
1v1 Dribbling and Defending: In the indoor game, tighter spaces and smaller numbers on the field mean more time with the ball at your feet, and more direct confrontations with opposing players.
Working on your 1v1 dribbling by perfecting some moves and working on your acceleration and change of pace will help you take advantage of those moments when you find yourself with the ball and a chance to attack your opponent directly.
Conversely, working on your 1v1 defending is important for ensuring that you stay strong in those situations when you are being run at by an opponent, which happens much more frequently in indoor soccer.
Defending is a team concept, of course, but in indoor soccer every player must be strong in individual duels, because there is no way to hide a player who is not.
First Touch: Due to the tight spaces, constant duels, and fast-paced transitions, a good first touch is crucial for any successful indoor player. Practice receiving the ball with all surfaces, with both feet, and quickly getting ready for your next move.
You want to be able to receive a ball and play a pass with your second touch. You also want to be in position to play a one-touch pass if appropriate, so make sure to stay on your toes and keep your head up to see your passing options. If there's space to dribble into and attack, you also want to be able to take your first touch at speed into that space.
All in all, indoor soccer forces you to think and play faster, and a great first touch is one of the best ways to make sure you're making the most of each opportunity on the ball.