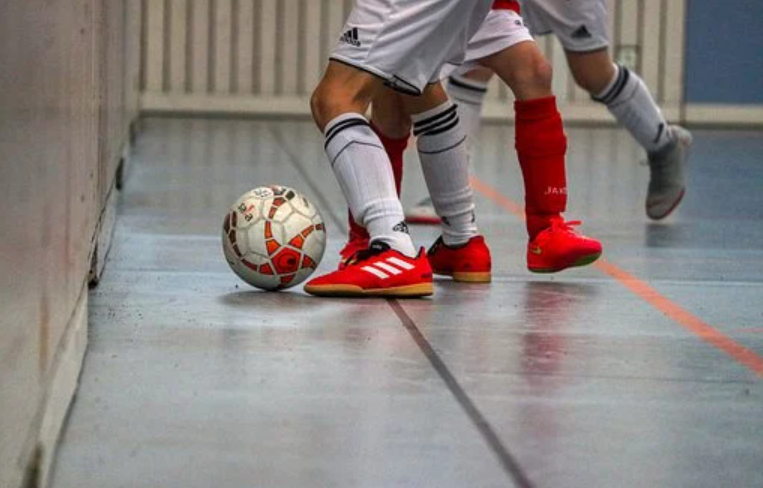 Finding a pair of good shoes isn't always the easiest task, and the difficulty level increases exponentially as you look for a decent pair of sports shoes. Also, good quality doesn't necessarily come cheap.
That's why many of us have favorite shoes that we like to use for multiple activities. Sometimes this works, like a nice pair of tennis shoes which can be great for a jog or a bike ride. But can you wear indoor soccer shoes on turf? Let's take a look.
How Is a Soccer Turf Different from Grass and Floors?
Turf is a special type of ground that many people confuse with artificial grass, but it's not. It's a rubber base that's designed to have a rough texture and a bit of elasticity. It's rather thin though, and that comes as a surprise for first-time users.
It's also worth mentioning that indoor soccer can also be played on hardwood floors, and another variant is the cement floor usually found in playgrounds. In certain areas these are the predominant surfaces that players play on.
Running on soccer turf requires durable footwear with good traction and high grip. On the other hand, it's best to use flexible shoes that provide traction on hard floors. And since they aren't subject to the roughness of the turf, they could be made from various materials.
The common aspect between hard floors and turf is that both become slippery when they get wet. A little rain would make the field feel like playing ice hockey instead of soccer.
The Differences Between Indoor Shoes and Turf Soccer Shoes
Footwear comes in a wide variety of designs to accommodate the various floor types and sports requirements. There are usually two letters on each model to summarize its best usage. For example:
IN: Indoor soccer shoes
FG: Firm ground grass
SG: Soft ground grass, also, wet or soggy ground
HG: Hard ground
AG: Artificial ground
AT: Astroturf, or simply turf soccer shoes
Indoor soccer shoes are often flat with rubber soles. These shoes often have parallel striations or grooves. This setup provides high flexibility, dependable grip, and helpful traction.
Contrary to that, turf soccer shoes are characterized by pointy dimples in their soles, which provide a better footing for the player. And they're often made from a rugged material that can handle the aggressive material of the turf.
Generally speaking, top of the line indoor soccer shoes can be quite expensive, while turf shoes often come in at a lower price. There are exceptions, of course, and budget-friendly options are always available for any product, as well as high-end brands with tons of bells and whistles.
So Can You Wear Indoor Soccer Shoes on Turf?
In theory, any sports shoe can be used anywhere. However, in reality, this couldn't be further from the truth. Wearing the wrong shoe would be uncomfortable, inefficient, and potentially dangerous.
Using an indoor soccer shoe out on the turf would be a bit hard for the following reasons:
The absence of the dimples and protrusions that characterize turf shoes makes indoor soccer shoes quite unstable on the turf.
It would be extremely hard to stop, change direction, and stay balanced.
Repeated bumps and falls on the semi-hard turf has the potential to cause serious injuries.
The grip and traction of indoor soccer shoes are rather useless on the turf.
Indoor shoes are often made from soft leather, which can be damaged very quickly by the aggressive turf.
How to Choose the Right Soccer Shoe?
First of all, you need to specify the intended usage to be able to buy the right soccer shoes. As we saw in the previous discussion, every type of floor has its own specific requirements. If you can spot the two letters that serve as a guide to optimal usage, then you can look for the attributes that best serve your intent.
Next, you should look for a shoe that feels comfortable, fits well, provides perfect support for your whole body, and endures the rough grounds well. If it looks good as well, then that would be great.
In Conclusion
Always buy footwear that suits the activity you're doing, and the environment around you. But don't let the glam look of some big-name brands lure you into buying something that you won't need.
And more importantly, avoid buying a pair that doesn't feel as good as it looks. Gimmicks are the name of the game when it comes to athletic wear, but smart shoppers know better than that.
And speaking of smart, wearing turf soccer shoes on an artificial grass field is a wise choice, as they have similar attributes. But wearing indoor soccer shoes on turf might not be just as clever.