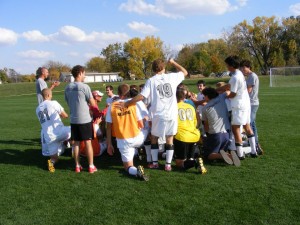 There's no denying that being on a soccer team is the best way to improve your skills.
Practicing regularly with your teammates under the instruction of a professional coach is crucial to your development as a player.
And the games provide a fun and effective method of testing out those new techniques as you learn them.
But for many players, their official soccer practices just aren't cutting it.
Even after years of club or high school soccer, they just don't seem to improve as much as they want to.
The same mistakes continue from season to season, and certain skills seem to be always just out of reach. What's the deal?
Although organized soccer practices are great, they aren't enough! Becoming a skilled player requires a deeper commitment to the game and a personal desire to get better even when no one else is around.
There are also some unavoidable limitations of official soccer practices which hinder your development.
In many club environments, for one, you will sometimes only have practice once or twice a week. Even if your club practices three or four times a week, you still need to put in work on your own.
Also, soccer is often not an all-year activity for many players, due to another sport or other activities, and a lot of regressing happens during those months without playing soccer.
We're all busy, though, and I'm certainly not saying that you need to play soccer 24/7, 365 to become great.
Instead, you need to recognize the need to set individual goals for your own game, and then work hard to accomplish them.
Your team's practices will obviously help you, but they will also involve tactical training, a variety of different drills, and preparation for particular opponents.
You won't always be getting a ton of touches or working on the part of the game you need to improve the most.
Because of this, you need to dedicate yourself to training outside of your team's structured environment.
You do not need to spend long hours doing it, but the more practice and time you put in, the more likely you will become better.
Be sure to remember that practicing bad habits will not help you, so concentrate on getting the correct fundamentals down.
Next I'll outline some more specific examples that will hopefully get you going.
For an individual soccer goal, you might pick something like improving your first touch. To achieve this goal, you would then set a training plan that you are able to stick to.
Maybe you only have time to train once a week outside of practice.
But if you break your goal down into clear steps, like pledging to receive a ball into space 30 times with your laces, inside, outside, thigh and chest once every week, you'll be surprised at how much your touch will improve.
And obviously, the more you can train, the better.
Other types of individual goals that might be appropriate to your game include heading technique, driving a ball, or shooting.
Finally, if you want some more tips on what you can do to train on your own, check out our post on 5 Ways to Improve Your Soccer Skills in Your Backyard.
You also might want to try our list of 5 Soccer Challenges That Will Help Hone Your Skills.