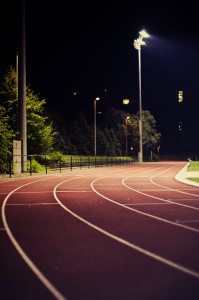 To play all 90 minutes of a soccer game, you must be in great shape. Even if you get the luxury of getting a breather or two, a high level fitness is still crucial.
But soccer isn't just running around at one pace: it involves some sprints, some jogging and even moments of walking.
Interval Training for Soccer Fitness
This means that a great way to improve fitness is interval training, a technique similar to game situations.
With interval training, you are performing a high intensity movement (running or sprinting) followed by recovering (walking or jogging).
The exact timing of your intervals can vary, but in general the key is to do the high-paced part for a short period of time, and the slow-paced part for longer so you have enough time to recover for the next burst.
You might choose something like 15 seconds of sprinting followed by 45 seconds of slow jogging. That also has the advantage of making your intervals one minute even so they're easy to plan and track.
You also don't need your high intensity movement to be an all-out sprint; something like 80% of your top speed can also work, and that should also allow you to do your interval run for longer.
There are nearly countless ways to plan your run, and next I'll share one of my personal favorites.
The Neighborhood Mailbox Interval Run
I like to run outside in my neighborhood.
My youth club soccer coach once gave a way to turn this into an effective interval run. He told me to sprint and then jog every other mailbox.
In my neighborhood, mailboxes were spread out pretty evenly, although there sometimes would be a very long or short sprint or jog, but that is true in a soccer game as well.
If you live in a place where there are not any mailboxes, you can improvise.
Mailboxes were just my intervals. I have also used telephone poles and driveways.
Use anything that will create an interval unit, and if you can't run on the streets near your home, try a local park.
I would recommend running at the maximum 3 miles, and I strongly believe though that working at high levels of intensity for short periods of time (3 miles max) can still get you into great soccer shape.
I know that soccer players run about an average of 6 miles but it is not all at high intensity.
Interval Training Improves Change of Pace
Interval training is effective because it works your fast twitch muscle fibers, which are the muscles used for quickness and speed.
In a game situation, this specifically improves your change of pace.
I'm sure you've heard coaches, announcers, or teammates talking about change of pace; it's a quick burst of speed to get around or away from a defender, and that is why you want to work your fast twitch muscle fibers.
For example, after you do a move to get around your defender or put your defender off balance, you need to create separation with a strong change of pace to complete the move.
Interval training and change of pace are both crucial to work on when improving your change of pace, so stay tuned for more detailed information and training advice.