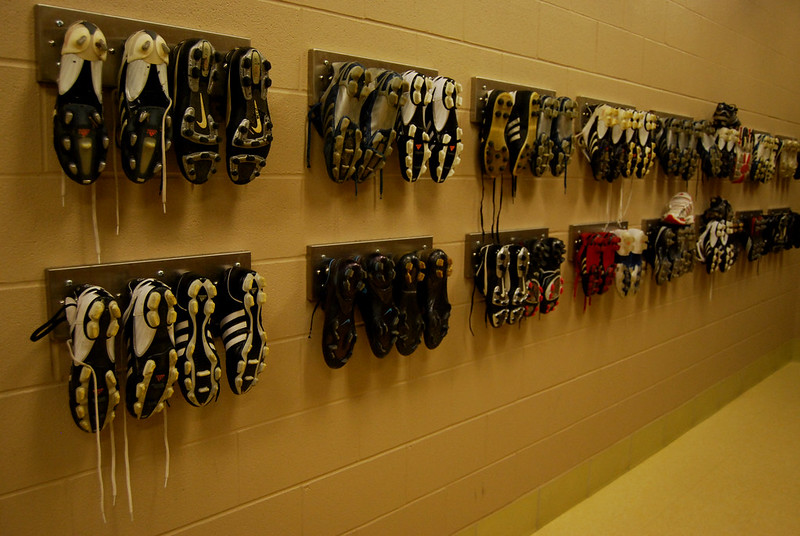 Shopping for the right soccer shoes can make or break your next soccer match, as they have a significant impact on how you perform in different conditions.
But as you're shopping for new soccer shoes, there can be confusion surrounding the type of cleat to get. Your decision should be directly related to the surface where you're more likely to practice soccer.
There are different types of soccer cleats that you can choose from, so what is the difference between SG and FG shoes? And in addition, should you stick to one pair or alternate between both kinds depending on the circumstances? Keep on reading to find the answers to these questions.
What are Soccer Cleats?
To start at a very basic level, soccer cleats refer to the footwear worn by soccer players and compared to regular sports sneakers, any cleats get their name for the small protrusions on the shoe's bottom, which are also known as studs. These provide traction when the players are running around the field to minimize slipping and protect players from serious injuries.
Over the past decades, soccer cleats have come a long way. Their main purpose is to stabilize players as they change direction suddenly when running after the ball or accelerating past an opponent.
Soccer cleats become especially important when the weather conditions get more challenging, like in the case of sudden rain or an unexpected frost. Wearing cleats will support the player's feet and help them move confidently.
The studs dig into the ground, whether the ground is muddy, hard, slippery, or dry. As a result, regardless of the challenging conditions, players can avoid serious injuries and falls. The protrusions provide a better grip and increase the friction against the ground, regardless of the challenging conditions.
What is the Difference Between SG and FG Soccer Cleats?
The main difference between SG and FG soccer cleats lies in the different outsoles, as they're designed for different playing surfaces.
Soft Ground (SG) Cleats
SG or Soft Ground cleats feature an outsole with screwed-in removable metal studs. They're designed to be used in wet grass fields, especially after rain.
In most cases, professional players will prefer to use soft ground cleats, as their pitches are usually better treated. However, some amateur players will also buy these cleats if they're likely to play soccer on wet pitches.
Since professional players are more likely to play their games on soft ground fields, they will need to buy these special cleats to provide an adequate level of stability and control.
These soft fields usually have a layer of gravel and sand that provides the right level of cushioning. On top of this layer, there's a layer of grass, which should be regularly watered and fertilized to maintain its condition.
If you're an amateur player, you might need a pair of SG cleats if you play soccer on muddy fields. These pitches become too soft when it rains, and you need the unique studs to provide the needed stability.
Compared to FG cleats, SG cleats are slightly heavier. This is due to the presence of the metal studs on the outsole. However, the difference in weight isn't that significant.
Since the studs are screwed in, you can remove some of the metal studs and replace them with softer plastic studs if you don't need that much traction. These cleats aren't recommended for use on artificial grass.
Firm Ground (FG) Cleats
FG or Firm Ground cleats feature an outsole that should be used on dry natural grass pitches, where the surface is more rigid and drier. There are plastic protrusions on the outsole, but they're not strong enough to penetrate the surface.
These cleats are more versatile and can work in wet and dry conditions. Most amateur players will choose a pair of FG cleats because they're more likely to work on a hard soccer pitch. The pitch is also easier to maintain than a soft ground field.
Although FG cleats work for multiple surfaces, they're not suitable for playing soccer on artificial grass. As a matter of fact, they can cause a severe injury in case of a slip.
Unlike SG cleats, these ones don't have metal studs on the outsole, so they might feel a little more comfortable and easier to maneuver, especially for amateur players.
What if You Play Soccer on Multiple Surfaces?
This is the situation that most of us face, as long as you're not playing soccer professionally. If you're usually playing on multiple fields, you should invest your money in a high-quality pair of FG cleats.
These can provide good traction on both soft and hard surfaces to provide a decent grip and protect you from accidentally slipping as you suddenly change your direction when you're running across the field.
Do You Have to Wear Cleats if You're Playing Soccer?
Surprisingly, the answer is no. There's no official requirement to wear cleats while playing soccer.
The rule is that players should wear footwear, but there's no law that names cleats as the only accepted footwear for professional or amateur soccer games. This means that even a professional soccer player can take part in a professional game even if they have forgotten, misplaced, damaged, or lost their cleats.
However, wearing cleats will significantly impact each player's performance and accordingly affect how the game progresses. Cleats provide the needed stability, especially on wet ground where there's a higher chance of slipping.
As a matter of fact, in rainy weather or if you're playing a game on soft and wet ground, there's a little chance that you can master your moves and become a better soccer player wearing turf shoes or indoor shoes.
Wrap Up
Cleats provide the needed stability on a soccer pitch, whether you're an amateur or a professional player. The difference between SG and FG cleats refers to the difference in the pitch where you're more likely going to play your soccer games.
SG cleats are more suitable for professional players, although some amateurs might need them. However, FG cleats are more versatile and should definitely be on your list if you want to enjoy a longer game of soccer without the risk of accidentally slipping.