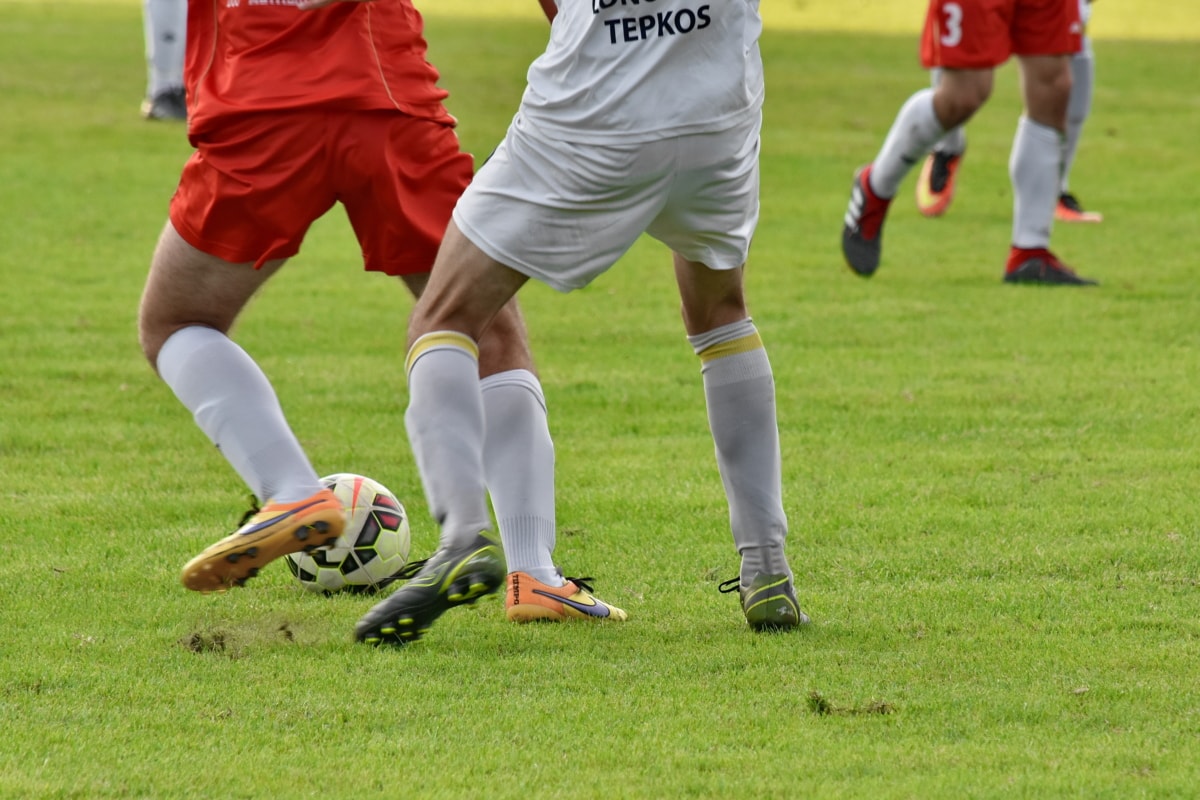 You probably consider wearing socks to be a pretty easy and natural concept to grasp, but when it comes to soccer socks, then you may have some questions that are worthy of investigation.
For one, how long should they be, especially when you have to factor in shin guards? And how tight or loose should they fit, and what's the potential downside if they aren't right for you?
What's the Right Length for Soccer Socks?
There are some general guidelines for how long your soccer socks should be, but beyond that the question becomes a manner of some personal preference.
First, the functional answer: your soccer socks are longer than most regular socks, as they need to be tall enough to completely cover your shin guards.
This of course isn't a single precise measurement either, as some shin guards are longer or shorter, others can be thin or quite thick, and some pairs have ankle guards which add to their bulk.
The longer and thicker the shin guard, the longer your sock should be in order to make sure to comfortably cover it.
If you (or the player you are buying for) likes to wear an extra pair of socks under their soccer socks, make sure to factor this in as well.
Finding the Best Fit for Your Soccer Sock
Once you've figured out how long your sock needs to be to cover your shin guards, then you can try some different lengths in order to decide what is best for you.
Some players prefer "over the calf" socks that go up to about your knee area. They can choose either just under, or even over the knee based on what feels better. Some players pull the socks all the way up, but most fold them over.
Other players like "crew" style socks that don't go up quite as high and are designed not to be folded down.
After this, the next decision is how tight or loose the socks should be. You want them to be snug enough that they don't fall down, as this can be distracting and can lead to you taking yourself out of the game to pull them back up.
But on the other hand, they shouldn't be so tight that they cause pain or numbness or restrict your movement, since you need to be able to quickly take off on a sprint when the situation calls for it.
The best way to find the right fitting soccer shoe? Try a bunch of different sizes on! Different brands (and types) of soccer sock will fit slightly differently on your legs, and there's no way to be sure until you see how they actually feel.
Make sure to bring your shin guards with you, as well as your shoes. If your sock is too thick, then your soccer shoes, whether indoor or outdoor, may become too tight and can cause discomfort or sores. You also don't want them to be too thin, as this could lead to blisters as well. Thus a proper fitting shoe and sock must be considered together.
The Last Words on Soccer Sock Fit
When we're talking about soccer socks as a whole category, then we should also think about socks we wear during practice when we may not always have shin guards on. In those cases, you can get away with a much shorter design, and just want to make sure it's an appropriate fit with your shoe (as we've explained above).
Finally, to quickly go over one final question we've heard before: do soccer socks go only on the left or right foot?
In most cases no, the socks are interchangeable so they can fit on either foot, much like casual and general athletic socks.
But there are some high-end soccer socks that are designed to be worn specifically on one of your feet. They are supposed to provide better cushion and support on your left or right. In most cases, this is not necessary and won't give you too much of an advantage, but it is something to consider.
We hope this article has helped you understand how to find the best soccer sock length and fit for you. If you have any questions or feedback, let us know below in the comments section below.