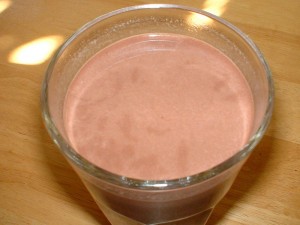 After a game or a tough soccer training workout, you will naturally want to refuel.
But what type of drink should you turn to? The latest expensive sports drink by Gatorade or Powerade? Water?
For something a bit different, how about chocolate milk?
Although it might sound a bit surprising, there is a growing body of research out there showing that chocolate milk is a very effective after workout drink, and more and more athletes are starting to heed the advice.
Drinking milk after winning a big event, though, is not a new idea.
For one example, the winners of the Indianapolis 500 have been doing it for years, mostly with 2% milk, as a post-race tradition. And for many it has been a staple for some in team sports like soccer as well.
Benefits of Chocolate Milk After a Workout or Game
You may have heard that drinking milk helps with hydration because of all the water it contains, but after a long soccer game or intense workout, you need more than just rehydration.
You want a drink that will help your muscles recover too.
The answer might very well be chocolate milk!
After an intense game or workout, it is important to rehydrate and help your muscles recover as quickly as possible, ideally within 30 minutes to an hour.
Drinking milk, water, or a sports drink can help you rehydrate, but drinking chocolate milk will help you with both.
Chocolate milk has more nutrients than water, regular milk, or a sports drink.
It also provides a better ratio of carbohydrates and protein that helps fatigued muscles recover. Chocolate milk also contains plenty of water that will rehydrate you, as well as Vitamins A and D. (More information)
During the 2004 Summer Olympics, six-time gold medalist Michael Phelps drank Carnation Instant Breakfast (Rich Milk Chocolate), and a study involving college soccer players published in the Journal of the International Journal of Sports Nutrition confirms most of the aforementioned benefits.
Phelps, the Indy 500 winners and these soccer players must be doing something right.
I know drinking chocolate milk will not instantly help you become the world's greatest soccer player, but it will give you an advantage over your competition who just drink water or sports drinks to recover after a soccer workout.
If you're looking for an edge over the competition, think about giving chocolate milk a try the next time you are staring down a sports drink after soccer practice.
Have you tried drinking chocolate milk after a workout? If so, how did you like it?