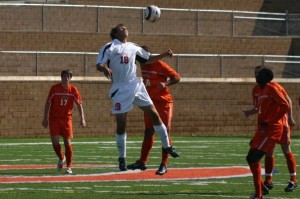 Soccer coaches look for players who are effective, but this isn't a neatly defined concept.
There are many ways to be effective on the soccer pitch, ranging from not giving the ball away, to playing simple, to completing 90% of your passes, to winning 50/50 balls and knowing your own skill set.
I believe that not giving the ball away and playing simple go hand in hand.
If you are not giving the ball away, then you are most likely playing simple or vice versa.
Soccer is a simple game, but it can be very difficult to play this way.
For inspiration, watch Barcelona or the Spanish national team during their 2010 World Cup triumph.
They play 2-touch with moments of 1-touch sprinkled into their play. Some described Spain's play as boring, but this style of play won them soccer's greatest honor.
Teams like Barca and Spain are just looking for the right time to attack and are constantly keeping the ball moving.
Why is Playing Simple Important?
It's true that great things can often come from simple play, and trying to do too much at once usually leads to trouble.
My advice to you is to try and emulate Barca's and Spain's play by playing 3-touch if you need to, 2-touch in most situations, and 1-touch if you're able.
There will be certain situations where you might need to take more, but this is a good general rule of thumb.
Your Pass Completion Percentage
Next, you may have seen a new statistic being using: pass completion percentage.
And I'm still talking football, just not American Football! During UEFA Champions League game when a player gets substituted out, a statistic will appear to show the player's passing completion percentage.
This statistic demonstrates that effective play is becoming more important than ever, and this is true for all levels of play.
The pass completion percentage statistic shows how accurate and effective various players are in their passing.
In general, you want this percentage to be as high as possible, ideally in the 90% range. This way it will seem like you never give the ball away.
Coaches will be able to recognize that you are completing passes and keeping possession.
A helpful hint to keep your passing completion percentage up is to play the way you are facing.
This will also help you play simple and not give the ball away.
Although there likely won't be anyone taking these detailed stats at your games, dedicating yourself to completing a high percentage of your passes is a great goal for becoming a more efficient soccer player.
The Importance of Winning 50/50 Balls
Another important way a player can be effective is by winning 50/50 balls.
Most coaches believe that if their team wins the majority of 50/50 balls then it increases their team's chances of winning.
It also helps your team gain momentum. If you can win the majority of the 50/50 challenges you are involved in, you are being an effective player bettering your team's chances of winning. (We'll have more on 50/50 ball strategy in later posts.)
Playing to Your Own Strengths and Skills
Finally, effective players know their own skill set.
For example, I am not the fastest guy in the world. So I needed to know my angles to intercept passes, receive balls, track down an opponent, and so on.
If you are a tenacious ball winner, then you win 50/50 balls. If you are good in the air, then you win all the balls in the air that are around you.
If you send in good crosses, then you need to find ways to get your crosses off.
By knowing your skill set, you are going be effective because you are not going to try something that you cannot do.
For example, if you are not very good at shooting the ball, look to make the extra pass in order to get a better shot with a higher chance of success.
All in all, these tips will help you become a more effective soccer player by helping you keep the ball, win it, and doing what you personally do best.